Tuesday! Time for Trendy Little Link up from Sunny with a Chance of Sprinkles!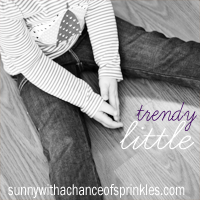 This week I thought I would share how my littles are trendy while being messy and casual!
Anyone who has kids knows how messy things get! We were at the zoo for a whole 30 mins and Benjamin has a skinned up knee on his pants, Cloees pants are covered in dirt and grime and Jax.. well hes Jax hahah
Cloee has the best shoes from Famous Footwear! Love these Sparkley Hello Kitty Sketchers!
Her outfit is totally Walmart ! Cheap and cute!
I love this pic bc shes all a mess after a long hard day at the zoo just kicked back and enjoying the ride!
The boys are always sporting Tshirts from Childrens Place bc my mom buys them in bulk i think! haha But they are too cute and Jax pants are Childrens Place and Benjamins are Walmart
Shoes???? Famous Footwear!
Chucks and Lightning McQueen Crocs