Oh how I love my mothers addiction to the Childrens Place! Today she got my lils some cute hats!
Perfect for my fav link up!!! Trendy Little from Sunny with a Chance of Sprinkles!!!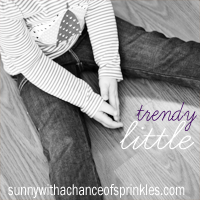 All their cute lil clothes and hats are from The Childrens Place & Shoes.. Famous Footwear!!! our fav!
Getting 3 toddlers to sit or stand still for a pic is just about imposible but oh how i love taking pics of them!!!
They are in love with their new hats! Benjamin has even taken his to bed! He walks around saying Mommy What ya think? Dont I look handsome?! LOVE
\