I am beyond excited about and have been anxiously awaiting todays new link up 'Trendy Little' from Sunny With A Chance Of Sprinkles!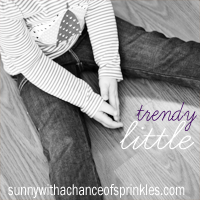 My mom has a crazy addiction to buying super cute clothes for my babies I have been wanting to showcase some of them for a long time so this is the perfect link up!
Here are my trendy littles...
Cloee sporting her Bow Bun!
There are tons of tutorials on Pinterest and its pretty easy to do.. Not totally easy on a wiggly 2 year old but oh so cute!
It is beyond hard to decide what outfit to showcase this week but heres my pic...
Shirt & Capri Jeggins are from Childrens Place
Flower Bow is made by Mommy
And shoes.. can i just not show them? She has so many cute shoes but is obsessed with her Dora & Boots Crocs
The funniest thing about this adorable shirt is because of my moms obsessive addiction to buying kids clothes (which I LOVE) she has this exact shirt in 5 different colors!!!! haha
Cloee isnt my only Trendy Little...
Yeah Im one of those moms who makes my poor boys dress alike a lot but its oh so cute and I know i wont be able to do it forever so i better do it while I can!
Boys shirts are from Childrens Place
Shorts Walmart
Shoes - Crocs from Famous Footwear